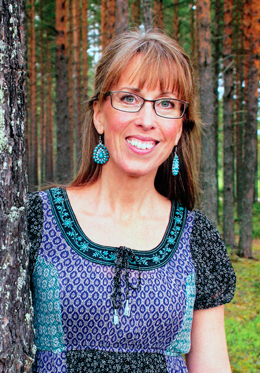 BECAUSE. 'Oh, how nice it is', I thought. 'This will be fun!' I was seven years old and had a new schoolbook. But not all books were as nice and then it became not quite as fun. In my job, I get to inspire others and share some of my curiosity and joy. Simple and personal. Like a 'feel-good' artist.

INSPIRATION. Encounters with people, different places, cabinets with secret compartments, the northern lights and the sea. And learning more …!


CUSTOMERS. They say I'm a positive and accurate person. With happy illustrations and a straight dialogue, which makes our collaboration easy. I like the variety of doing both illustration and design. Sometimes I visit classes, to talk about my job. Some of my clients are Sanoma Utbildning (formerly Bonnier Utbildning), Gleerups, Sica Läromedel, OLIKA Förlag and OrdAF. I have been freelancing since 1989.

PIA. That's me. I have moved 400 km south and live in Timrå with my husband, our two teenage daughters and a small black and white 'cardi-cat' with extra thumbs. I marvel at the little things in life and like to run around shooting everything up close! Secret talent? Then … I studied the technical college in chemistry. Now … I'm experimenting in the kitchen among baking stuff and spice jars. Which makes my family happy. Almost always … :)

PICTUS. That's my business – illustrator, graphic designer and children's book author. I usually make drawings / designs for materials related to children, but have also made logos, packaging, etc. I have written nine books. Eight of them are about Aunt Siv and her incredibly lazy dog Johansson. They are published by Bonnier Utbildning (now Sanoma Utbildning).

STUDIO. My studio is located in scenic Timrå, north of Sundsvall. Close to the wonderful nature and also close to the beautiful city!