Å, vad kul! "Min" författare Karin Danielsson, vars böcker jag har illustrerat under 25 års tid (- det har blivit många böcker!), har fått årets läromedelsförfattarpris Lärkan (kategori förskola/lågstadium). Och ingen mindre än vår utbildningsminister Gustav Fridolin överlämnade priset på Skolforum. Hurra och Grattis, Karin! :D
Such good news! Karin Danielsson, "my" writer, whose books I have illustrated for over 25 years (- so there have been many books!), has received this year's educational writer's price The lark (category preschool / primary school). Makes me so happy! Education Minister Gustav Fridolin presented the award. Congratulations Karin! :D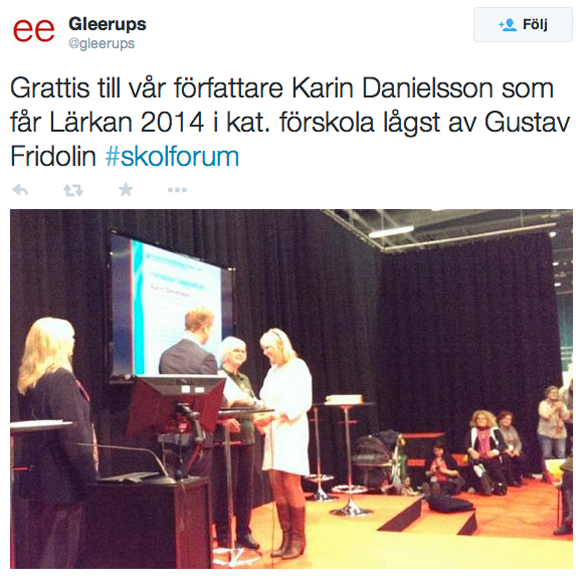 (Foto / photo: Gleerups twitter)
Juryns motivering (SLFF):
Årets Lärkanpris 2014 i kategori Förskola/Lågstadium tilldelas Karin Danielsson
Karin Danielsson är en erfaren lågstadie- och speciallärare och författare till en mängd läromedel. Hon lyckas förmedla sitt stora intresse för djur och natur till de mindre barnen på ett fascinerande sätt. Karin presenterar spännande fakta som verkligen fångar barnens intresse. Detta innebär att eleverna växer både när det gäller kunskap och läsfärdighet. Hon har även författat läromedel i svenska, matematik och engelska för de tidigare åren. Karin Danielsson är en värdig vinnare av Årets Läromedelsförfattarpris Lärkan 2014.
Jury statement (SLFF):
This year's Lark Price 2014 category Kindergarten / primary school awarded Karin Danielsson
Karin Danielsson is an experienced primary school and special education teacher and author of a variety of teaching materials. She manages to convey his great interest in animals and nature to the younger children in a fascinating way. Karin presents intriguing facts that really captures the children's interest. This means that students are growing both in terms of knowledge and reading skills. She has also authored textbooks in Swedish, mathematics and English for the past few years. Karin Danielsson is a worthy winner of this year's Writers' Study Material Price Lark 2014.