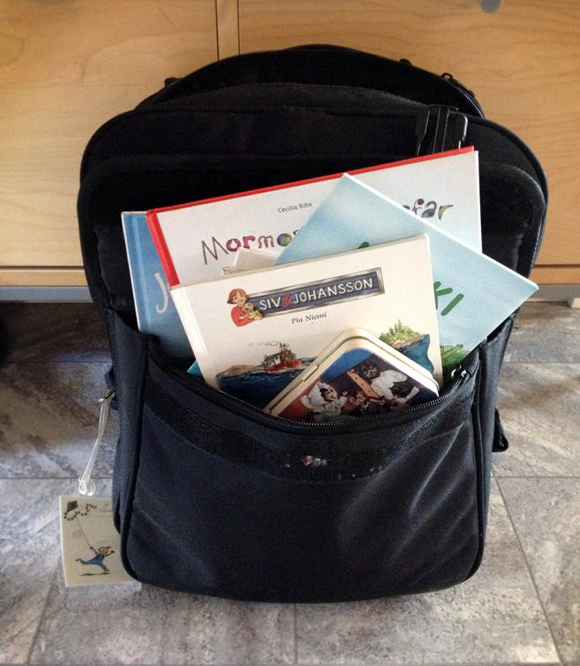 På världsboksdagen besökte jag tre förskoleklasser genom skapande skola. Många 6-åringar kunde knappt sitta stilla, än mindre vara tysta och andra hade redan lärt sig att läsa. Precis som det kan vara. Jag berättade om mitt jobb, om att rita bilder och att skriva böcker. Gav lite tips om hur man själv kan skriva sagor. De ville börja på en gång!
Idag, en månad senare, sedan barnen tillsammans med sina fröknar fått hittat på en gemensam saga i klasserna, var det dags för mig att komma tillbaka. Nu skulle vi göra bilder ihop! De tyckte väldigt mycket om när jag tipsade om hur man ritar olika ansiktsuttryck, till och med en liten fisk kunde se ledsen ut. Sedan satte de igång, vissa lite tvekande och andra i full fart. Och jag gick runt och peppade, stöttade och gav råd. Pojken som kämpade mest med sin bild var den som gav mig största kramen när jag sedan gick. Underbara möten i klassrummet! :)
At the World Book Day, I visited three kindergarten classes having "Creative School". Many 6-year-olds could hardly sit still, let alone be silent and others had already learned how to read. Just the way it can be. I told them about my job, about drawing pictures and writing books. Gave some tips on how one can write fairy tales. They wanted to start at once!
Today, a month later, when the children together with their teachers had written a story together, it was time for me to visit them again. This time we would make illustrations together! They were very happy to learn how to draw different facial expressions, and even a small fish could look sad. Then they started to draw and paint, some a bit hesitant and others in full swing. And I went around and supported and gave some advice. The boy who struggled most with his picture was the one who gave me the biggest hug when I left when class was finished. Wonderful meetings in the classroom! :)