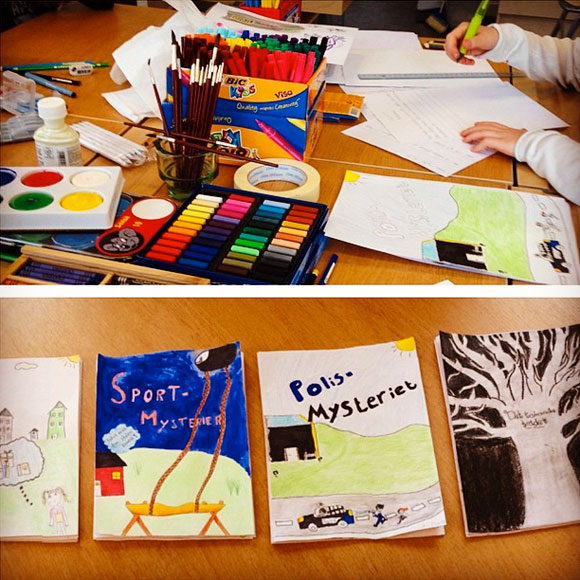 Så var det dags för "Skapande Skola" igen! Denna gång var det "Elevens val" eller "Student Choices" på Internationella Engelska Skolan i Sundsvall. Under tre dagar har jag haft glädjen att få arbeta med elever i mellanstadiet, som har skrivit och illustrerat sina egna böcker. Vilken energi och vilken fantasi det fanns där! Fotot får illustrera lite av arbetsglädjen och resultatet.
Responsen från elevernas pedagog var också fin: "Tack för jättefina dagar! Du har verkligen gett massor av inspiration till fortsatt arbete! Tack även för alla tips du delat med dig av. Jag ser fram emot nästa gång vi ses, förhoppningsvis redan i höst."
Jag kommer gärna tillbaka! :)
So it was time for "Creative School" again! This time it was "Student Choices" at the International English School in Sundsvall. For three days I have had the pleasure to work with students, age 10-12 years, who has written and illustrated their own books. Lots of positive energy and inspiration!
The feedback from the students' teacher was really nice: "Thanks for the lovely days! You have really given us a lot of inspiration for further work! Thanks also for all the tips you shared. I look forward to the next time we meet, hopefully this fall."

I'd love to visit the class again. :)